Conference participant, Julie Richards, Community Partnerships Coordinator at A Gesture, talked at the Conference about the important work A Gesture does supplying local charities with access to fresh food and their commitment to providing access to practical and accredited training to people who are unemployed and disadvantaged. A Gesture is applying for WELL funded training to further support the skill development of their participants.
The following video provides a great introduction to what they do.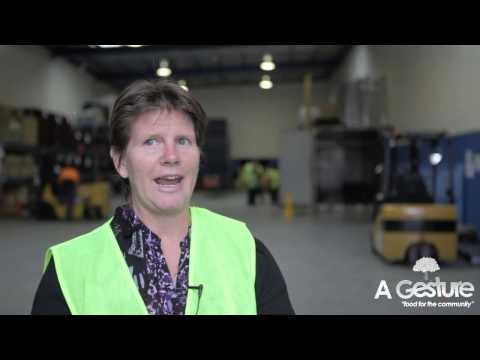 About A Gesture
What is A Gesture? A Gesture in partnership with Secondbite rescues food from major suppliers and provides accredited training to members of our community with social barriers; we distribute approximately 1500kg food per week, which feeds 1200 people, because everyone has the right to eat and be educated.
Who's involved?  A Gesture has 6 full time employees, (half are program graduates) at our 'workplace warehouse' in Sunshine. Other part time staff (trainees / apprentices & volunteers) manage the food packing process and have varied backgrounds, we're multicultural, some have disabilities, criminal histories or are homelessness. Some may be unemployed, have low level english, or prefer a hands on schooling, or are at risk of leaving school. Regardless of their origin, everyone  receives accredited training, to build their employability or education skills (Warehousing Certificate) from our RTO partner.
What do we aim for? Improve participants' English language, literacy and employability skills to assist re-entry to the workforce. To increase participants' self-esteem and support the wider community by providing nutritious food to those in need.
For more information visit http://www.agesture.org/ or contact Julie Richards at julie@agesture.org.